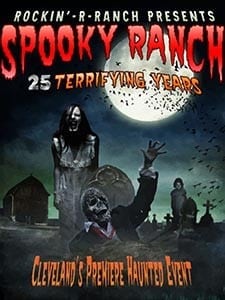 Cleveland's Premiere Haunted Attraction, celebrates its 25th terrifying year.
Spooky Ranch at the Rockin-R-Ranch hosts 5 dynamic attractions that you will not find anywhere else in the Cleveland area, Extreme Nightmares Haunted House, Crazy Clowns in 3-D, The Haunted Barn, The Famous Haunted Hayride and The Family Fun house.
For many years Hauntworld.com , the World's #1 haunted house website and haunted house magazine has recognized Spooky Ranch as one of the Best, Scariest and most well-done haunted attractions with extremely high ratings. The awards don't stop there, to be awarded an 11 out of 10 rating, by the Haunted House Enthusiasts is quite an honor. The Haunted House Enthusiasts have been rating haunted attractions for over 14 years. With only 5 other haunted attractions receiving such an honor, puts spooky ranch in a special class of haunted attractions.
What sets spooky Ranch apart from everyone else and gives them such high ratings, and rave reviews in the haunted attraction community?
Where Spooky Ranch goes above and beyond in creating a whole new haunted attraction experience is the "Quadruple Treat" effect, of Acting, Prop use, proper animatronics use and timing. Combining these scare tactics, along with great scene setting design and an ambient environment throughout the attractions. This is what makes Spooky Ranch one of Ohio's Best Haunted Attractions.
Spooky Ranch truly is the theme park of haunted attractions, with our actors speaking roles and interactivity, you get a theatrical production performance, not just boo and rah's.
This is not a walkthrough of a haunted house, with the ambient environment and 4 separately themed haunted houses plus, the famous haunted hayride; Spooky Ranch becomes a mental transportation to another place in time. This transportation leaves you with the feeling that you are really there!
Spooky Ranch is proud to celebrate its 25th terrifying year!

Spooky Ranch, Ohio's Premiere Haunted Attraction is produced by Six Stars Productions, LLC in association with Halloween Innovations and Scare-Masters Productions.
Visit Spooky Ranch this Halloween season, and experience what everyone is raving about, join in the celebration of 25 terrifying years of one of Ohio's Best Haunted attractions.
Also visit our other Haunted attraction produced by our production teams,
Hauntville Haunted Houses,  Ohio's Scariest Haunted Houses.
At 1579 West River Road North, Elyria, Ohio 44035
---